Vancouver Island Events
Feb 7, 2019 to Feb 9, 2019
TheatreOne presents Person of Interest
Feb 7, 2019 to Feb 9, 2019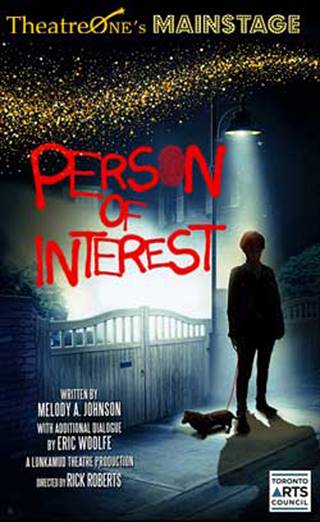 TheatreOne's Mainstage presents Comedy Drama Person of Interest
Written and performed by Melody A. Johnson
Directed by Rick Roberts
Thursday to Saturday, February 7-9, 2019
"A play about learning to hate your neighbours instead of yourself!"
Nanaimo – TheatreOne's Mainstage presents the comedy drama Person of Interest by Melody A. Johnson Thursday to Saturday, February 7-9 at VIU's Malaspina Theatre. Inspired by the true story of an event that happened on Johnson's street in Little Poland, Person of Interest is a one-woman tale of a neighbourly dynamic gone wrong. Horribly, horribly wrong.
Typecast as a "housebound loser", this is the mostly true story of an actor driven to the brink. Person of Interest is storytelling at its best, told simply and skillfully; this original play will strike a chord with anyone who has ever lived, loved or battled with neighbours.
Award winning, celebrated actor and writer Melody A. Johnson returns to Nanaimo with this new solo show. Johnson has performed across stages in both Canada and the United Kingdom with her acclaimed Miss Caledonia.
"Endearingly Puck-like, full of energy, mischief and irreverence for the mundane, but genuinely wanting to get along, Melody weaves this sometimes shocking tale of neighbourhood warfare with candour and an edgy sense of fun." – Cathy McKim, Life With More Cowbell.
"The performance is seamless. Johnson powers through with not an ounce of apprehension. It's very cool to watch…a fun, quirky and clever night of theatre…" – Jennifer Enchin, Mooney on Theatre
"Melody A. Johnson proves once again, she is the kook supreme of the Canadian stage…I truly would pay money to see Johnson read the phone book…" -Richard Ouzonian, The Toronto Star
Tickets are $30 or $15 for students from theatreone.org and 250-754-7587.
| | |
| --- | --- |
| Category: | Events |
| Start: | Feb 7, 2019 |
| End: | Feb 9, 2019 |
| Time: | 7:30pm - 9:30pm |
| Address: | 900 Fifth St. Nanaimo |
| Location: | VIU's Malaspina Theatre |
| Cost: | $15 – $30 |
| Phone: | 250-754-7587 |
| Website: | Open Site |
| Email: | Send Email |
<!'--#include virtual="vincludes/rt.asp"-->