Vancouver Island Events
Feb 8, 2019
Blue Beads & Blueberries
Feb 8, 2019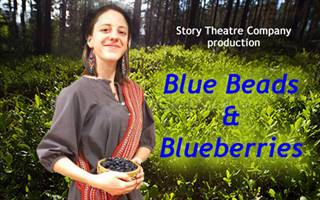 "The truth about stories is, that's all we are." – Thomas King
What do Cinderella and King Lear have in common? They were both inspired by the folktale "Cap O' Rushes". Discover the Métis re-telling at TheatreOne's Just Kidding for Kids presentation of Blue Beads and Blueberries. French-Irish-Métis playwright Erin Macklem infuses this new adaptation with music and mischief, disguises and dancing.
When the king asks his daughters how much they love him, his youngest answers "Like pemmican loves blueberries." Outraged, he banishes her from his kingdom and she must use her wits and her creative gifts to find her way back to his heart.
This Métis retelling of the classic story will delight audiences of all ages. Everyone is invited to listen with their ears and their hearts. It provides opportunities to explore the First Peoples and Indigenous knowledge.
"As Dr. Christopher Horsethief said, 'Learning for us (Ktunaxa) is not putting things in our heads – it's about putting things in our hearts.' Blue Beads and Blueberries is in our hearts. Thank You for sharing your story with us." — Ronalie James, AESW Aboriginal Education SD5 (Southeast Kootenay)
Just Kidding for Kids is generously sponsored by Coastal Community Credit Union, Kool & Child, Mid-Island Co-op, and Island Parent Magazine.
| | |
| --- | --- |
| Category: | Theatre |
| Date: | Feb 8, 2019 |
| Time: | 10:00am - 11:00am |
| Address: | 900 Fifth St. Nanaimo |
| Location: | VIU's Malaspina Theatre |
| Cost: | $12 |
| Phone: | 250-754-7587 |
| Website: | Open Site |
<!'--#include virtual="vincludes/rt.asp"-->