Vancouver Island Events
Oct 15, 2019 to Nov 30, 2019
Painting & Collage Exhibition
Oct 15, 2019 to Nov 30, 2019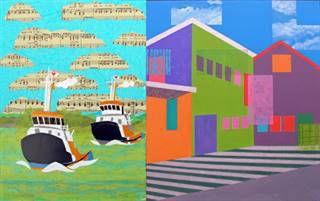 Mattila + Martin: Painting & Collage Exhibition

Donna Mattila:
"In his 'Notebooks', George Braque wrote 'In art there is only one thing that counts; the thing you can't explain'. This is how I think about writing about my painting; either it works or it doesn't. My imagery originates from many walks in residential areas and urban streets,"

Tony Martin:
"The images in this current series mainly concern a combination of seascapes and vessels. Influences: Local environment and travel documentation. I turned to the craft of collage a few years ago as an encouragement to abstract and simplify my imagery."
| | |
| --- | --- |
| Category: | Art |
| Start: | Oct 15, 2019 |
| End: | Nov 30, 2019 |
| Time: | 10:00am - 4:00pm |
| Address: | 133 McMillan Street, Parksville |
| Location: | McMillan Arts Centre (The MAC) |
| Website: | Open Site |
<!'--#include virtual="vincludes/rt.asp"-->