Vancouver Island Events
Nov 16, 2019 to Nov 30, 2019
Wired at the Cathouse
Nov 16, 2019 to Nov 30, 2019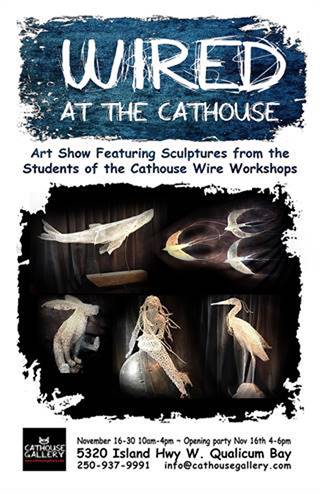 Wired at the Cathouse

Sheena McCorquodale has been teaching monthly Weekend Wire Workshops for the past couple of years. The workshops are 2 days, Saturday & Sunday, 10am to 4pm. Students send a photo of something they would like to make. Sheena creates a pattern based on the photo with approx. 2' x 2' dimensions. Students are given an introduction to anatomy and are shown the basics of chicken wire sculpting techniques including cylinder construction, lacing, added embellishments, texture creation, and modelling. No experience is required to be in these classes.

The WIRED AT THE CATHOUSE Show will feature over a dozen student sculptures with a wonderful variety of subjects from the whimsical to the graceful and everything in between.

For further information, call 250-937-9991.

The show will run for 2 weeks, Nov 16 - 30. Join us on November 16 4pm to 6pm for the opening party. Meet the artists, enjoy some live music, nibblies & wine.
| | |
| --- | --- |
| Category: | Workshop |
| Start: | Nov 16, 2019 |
| End: | Nov 30, 2019 |
| Time: | 10:00am - 4:00pm |
| Address: | 5320 Island Hwy W, Qualicum Bay |
| Location: | Cathouse Gallery |
| Website: | Open Site |
<!'--#include virtual="vincludes/rt.asp"-->