Vancouver Island Events
Nov 24, 2019
Open Acoustic Jam
Nov 24, 2019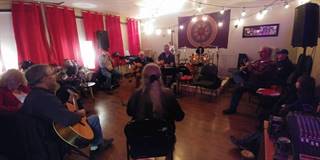 *JAMS ARE NOW ON SUNDAYS
​FROM 2-5PM*
Jams will be every second and fourth Sunday of each month
​$5 donation at the door is greatly appreciated
Our Jam sessions are lovingly led by Barbara Gilmore.
They are usually unplugged and are strictly for non-amplified instruments (ie. acoustic guitars, ukeleles, mandolins, harmonicas, hand drums etc. No electric instruments on these days.
Check out our Facebook page for more details on each jam session, lately Barbara has been choosing excellent themes!!
Our Jam Sessions are a bit like a box of chocolates – you never know what you're gonna get! GZAL promotes and encourages music from all genres and disciplines. Variety is the spice of life. If you agree, come on out and be prepared to travel down the musical road that is laid out before us on a particular night.
In order to provide a great experience for all comers, we have made the decision to separate our jams into electric and unplugged nights. This way there will be a clear understanding of what the "mood" of a particular night will be.
Jams are unlike Open Mic nights, in that it's a circle of sharing. Ideally everyone should have a chance to share songs with the group. Songs that you bring should also be easier for others to join in on.
Bring some copies of chords and lyrics and we will add your songs to our song books.
Keep on Jammin!!
| | |
| --- | --- |
| Category: | Art |
| Date: | Nov 24, 2019 |
| Time: | 2:00pm - 5:00pm |
| Address: | #8 464 Island Highway East Parksville, |
| Location: | Ground Zero Acoustic Lounge |
| Cost: | $5 |
| Website: | Open Site |
<!'--#include virtual="vincludes/rt.asp"-->