Vancouver Island Events
Oct 12, 2019
Splish Splash Everyone Welcome Swim
Oct 12, 2019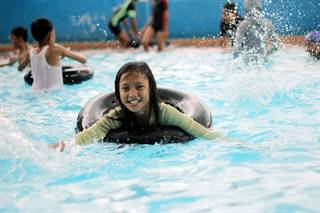 Splish Splash Everyone Welcome Swim

Splish splash everyone welcome swims at Ravensong Aquatic Centre are a water adventure you don't want to miss. The lifeguards are going to bring out the pool toys for you to enjoy. From the rope swing to the snake there will be water play for everyone. Saturday, October 12 from 10:00 am to 12:00pm. Regular admission.

Phone RDN, Recreation and Parks 250-752-5014 or view skate and swim schedules online at rdn.bc.ca/recreation.
| | |
| --- | --- |
| Category: | Family |
| Date: | Oct 12, 2019 |
| Time: | 10:00am - 12:00pm |
| Address: | 737 Jones Street, Qualicum Beach |
| Location: | Ravensong Aquatic Centre |
| Cost: | Regular Admission |
| Website: | Open Site |
<!'--#include virtual="vincludes/rt.asp"-->