Vancouver Island Events
Jan 22, 2019 to Jan 30, 2019
Rainshadow Art Exhibition
Jan 22, 2019 to Jan 30, 2019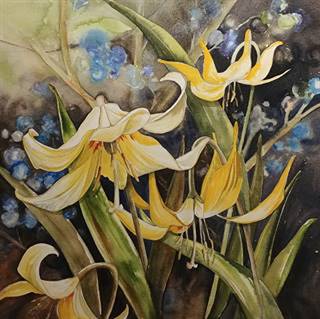 Rainshadow Art Exhibition at The MAC

An exhibition of watercolour paintings by Errington painter Kimberly Miller, featuring beautiful landscapes and florals from the Mount Arrowsmith watershed region.

A sense of home.

This group of paintings is inspired by the setting that means the most to me: home. I live where the farmland meets the forest and the salmon streams meet the mighty Englishman River. Evidence of the giant old growth forest still exists in this area, where settlers long ago recognized the agricultural possibilities of a life nestled in the gentle shelter of Mount Arrowsmith. We strive to live in much the same way today. I find overwhelming inspiration in the simple pleasures of daily life, and I see tremendous beauty in the tending of food crops, fruit and flowers, the song of birds, the constant music of the river, and the wild things at my doorstep as they change with the seasons.

A sense of place.

The watersheds that originate in the high peaks of Arrowsmith connect with the ocean to create a vital network of biodiversity that thousands of species rely upon? including ourselves. Our local microclimate is influenced by Arrowsmith, every plant and animal relies on her, and all of our water flows from her shoulders. This unique ecosystem defines life in this region, where we all live together downstream.

It is powerful but it is vulnerable. It is resilient but it is fragile.

Opening Reception: Saturday January 19th, 2019 1-3pm.
| | |
| --- | --- |
| Category: | Art |
| Start: | Jan 22, 2019 |
| End: | Jan 30, 2019 |
| Time: | Tues-Sun 10:00am - 4:00pm |
| Address: | 133 McMillan Street, Parksville |
| Location: | McMillan Arts Centre |
| Cost: | See Website |
| Website: | Open Site |
<!'--#include virtual="vincludes/rt.asp"-->