Vancouver Island Events
Jan 13, 2019
Swing Jazz Jam Night with Tangerine Swing
Jan 13, 2019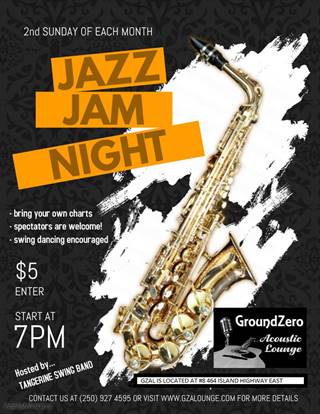 Every second Sunday of every month at 7 PM. The GZAL on the Island Highway in Parksville between the Boston Pizza and Tim Hortons, beside Kerry's Automotive.
We've been working out of the Real Books Volume 1 and 2, because we have these in C (treble and bass clef), Bb and Eb. Singers are welcome, but we need proper charts to work from. We have some lyric sheets and charts for singers to choose from, but not a complete list, and only in certain keys. We will have a list of songs with lyrics and charts to look through.
If you know anyone who would be interested in joining in, please pass on this message. The only requirement is that players need to know how to read charts.
| | |
| --- | --- |
| Category: | Events |
| Date: | Jan 13, 2019 |
| Time: | 7:00pm - 9:00pm |
| Address: | #8 464 Island Highway East Parksville |
| Location: | Ground Zero Acoustic Lounge |
| Cost: | $5 |
| Website: | Open Site |
<!'--#include virtual="vincludes/rt.asp"-->