Vancouver Island Events
Aug 7, 2017
Aug 7, 2017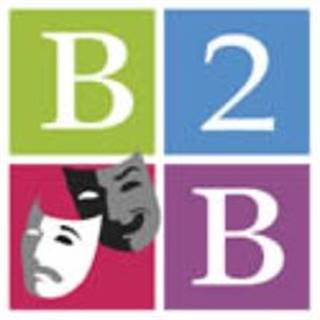 Val, Nina, Andy and Matt are four singles living average lives and "looking" for something more-love, sex and the whole damned thing. Canada's comic master Norm Foster begins with the first blind date and takes us on a fabulously funny excursion through the highs and lows, the joys and dilemmas of middle-age dating. Visit Bard to Broadways website for more info.
| | |
| --- | --- |
| Category: | Theatre |
| Date: | Aug 7, 2017 |
| Address: | 110 W Second Ave, Qualicum Beach |
| Location: | Village Theatre |
| Website: | Open Site |
Jun 26, 2017 to Aug 7, 2017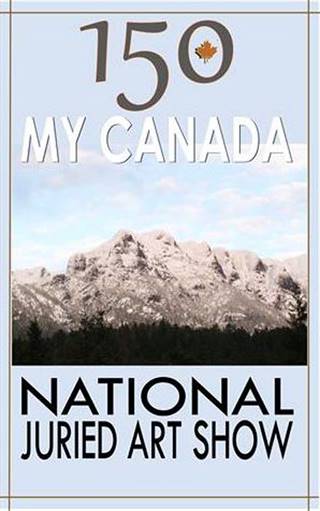 What does a small arts centre on Vancouver Island do to celebrate Canada's 150th birthday? The Old School House Arts Centre in Qualicum Beach is hosting a juried exhibition with artists displaying paintings of their interpretation of the exhibition theme, "My Canada". For more info please visit their website.
| | |
| --- | --- |
| Category: | Art |
| Start: | Jun 26, 2017 |
| End: | Aug 7, 2017 |
| Time: | Daily - Various Times (see website) |
| Address: | 122 Fern Road West, Qualicum Beach |
| Location: | The Old School House Arts Centre |
| Phone: | 250-752-6133 |
| Website: | Open Site |
Jul 14, 2017 to Aug 20, 2017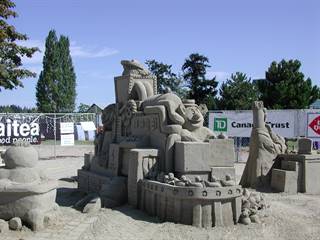 The Quality Foods Canadian Open Sand Sculpting Competition and Exhibition is a world class event for Master Sand Sculptors and is an official qualifying event for the World Championship of Sand Sculpting! Master Sand Sculptors travel from all corners of the globe to participate in our remarkable competition and exhibition in Parksville, British Columbia, Canada. Sculptors have 30 hours over four days to create their masterpieces from just sand and water (and a lot of ingenuity!). Visit their website for more i...more info
| | |
| --- | --- |
| Category: | Family |
| Start: | Jul 14, 2017 |
| End: | Aug 20, 2017 |
| Time: | 9:00 am - 5:00 pm |
| Location: | Parksville Community Beach |
| Cost: | Cash Donation |
| Website: | Open Site |
Aug 7, 2017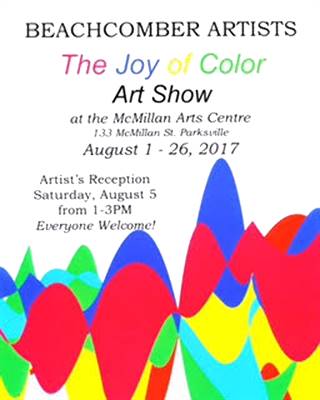 | | |
| --- | --- |
| Category: | Art |
| Date: | Aug 7, 2017 |
| Time: | 10 am - 3 pm |
| Address: | 133 McMillan Street, Parksville |
| Location: | McMillan Art Centre |
Aug 7, 2017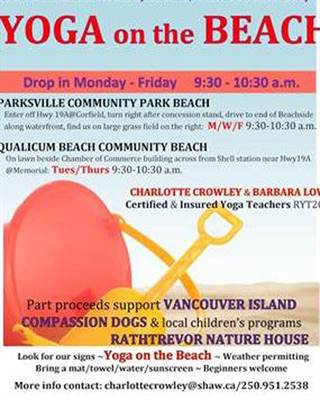 Come to the 6th summer of Yoga on the Beach! Drop-in, no registration required, by donation only to support Vancouver Island Compassion Dogs and local children's programs at the Rathtrevor Nature House at Rathtrevor Park. Unless it is raining, plan to meet Charlotte Crowley and Dr. Barbara Low, certified yoga instructors, for a fun outdoor Hatha-style yoga session.

-Monday, Weds & Friday on the large grass field at the end of Beachside Drive in the park (enter the park off Hwy 19A at Corfield, turn righ...more info
| | |
| --- | --- |
| Category: | Family |
| Date: | Aug 7, 2017 |
| Time: | 9:30 am - 10:30 am |
| Address: | Parksville Community Park & Qualicum Beach Community Beach |
| Location: | See below. |
| Cost: | By donation only ($5 recommended, or whatever you can give) |
| Name: | Charlotte Crowley |
| Phone: | 250-951-2538 |
| Email: | Send Email |
<!'--#include virtual="vincludes/rt.asp"-->