Vancouver Island Events
Aug 10, 2017
Aug 10, 2017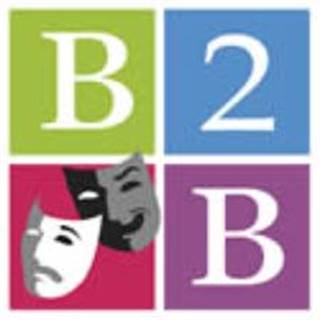 This Tony Award winning Broadway musical is one of Canada's greatest theatrical success stories. On the eve of their wedding, Robert and Janet encounter unexpected obstacles, until all is resolved in the best madcap, musical comedy tradition. A terrific, tuneful tribute to the Twenties. Visit Bard to Broadways website for more info.
| | |
| --- | --- |
| Category: | Theatre |
| Date: | Aug 10, 2017 |
| Address: | 110 W Second Ave, Qualicum Beach |
| Location: | Village Theatre |
| Website: | Open Site |
Aug 10, 2017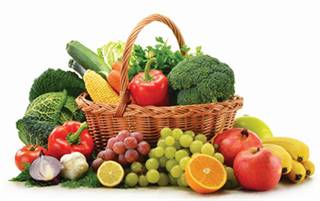 Thursday nights in July and August will be the Uptown Street Market, showcasing the charm of Qualicum Beach, free to all local vendors who made, baked or grew their products. Sure to be an enjoyable evening with live music as well as restaurants and other stores open as well! Fore more info click their website link.
| | |
| --- | --- |
| Category: | Markets |
| Date: | Aug 10, 2017 |
| Time: | Thursday nights in July and August |
| Location: | Qualicum Beach |
| Cost: | Free |
| Website: | Open Site |
Jul 14, 2017 to Aug 20, 2017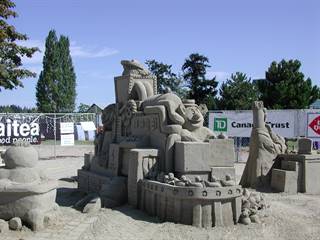 The Quality Foods Canadian Open Sand Sculpting Competition and Exhibition is a world class event for Master Sand Sculptors and is an official qualifying event for the World Championship of Sand Sculpting! Master Sand Sculptors travel from all corners of the globe to participate in our remarkable competition and exhibition in Parksville, British Columbia, Canada. Sculptors have 30 hours over four days to create their masterpieces from just sand and water (and a lot of ingenuity!). Visit their website for more i...more info
| | |
| --- | --- |
| Category: | Family |
| Start: | Jul 14, 2017 |
| End: | Aug 20, 2017 |
| Time: | 9:00 am - 5:00 pm |
| Location: | Parksville Community Beach |
| Cost: | Cash Donation |
| Website: | Open Site |
Aug 10, 2017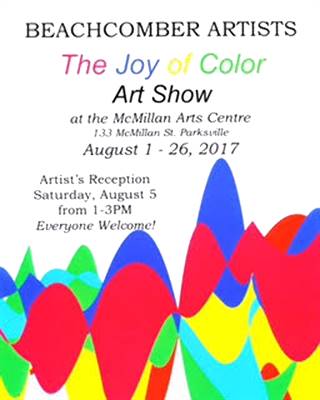 | | |
| --- | --- |
| Category: | Art |
| Date: | Aug 10, 2017 |
| Time: | 10 am - 3 pm |
| Address: | 133 McMillan Street, Parksville |
| Location: | McMillan Art Centre |
Aug 10, 2017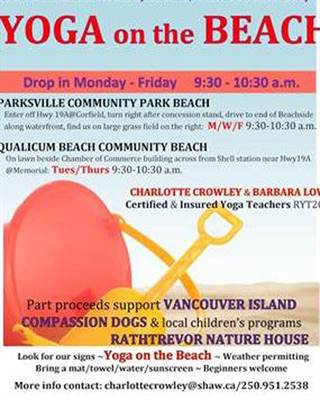 Come to the 6th summer of Yoga on the Beach! Drop-in, no registration required, by donation only to support Vancouver Island Compassion Dogs and local children's programs at the Rathtrevor Nature House at Rathtrevor Park. Unless it is raining, plan to meet Charlotte Crowley and Dr. Barbara Low, certified yoga instructors, for a fun outdoor Hatha-style yoga session.

-Monday, Weds & Friday on the large grass field at the end of Beachside Drive in the park (enter the park off Hwy 19A at Corfield, turn righ...more info
| | |
| --- | --- |
| Category: | Family |
| Date: | Aug 10, 2017 |
| Time: | 9:30 am - 10:30 am |
| Address: | Parksville Community Park & Qualicum Beach Community Beach |
| Location: | See below. |
| Cost: | By donation only ($5 recommended, or whatever you can give) |
| Name: | Charlotte Crowley |
| Phone: | 250-951-2538 |
| Email: | Send Email |
<!'--#include virtual="vincludes/rt.asp"-->