Susan Forrest's Blog
You are currently ONLY viewing blog posts in category 'Trivia'
Posted By:
Susan Forrest on Nov 23, 2018
As long as you don't wait until the last minute, buying Christmas gifts for family and friends can be a great experience...the joy in finding that one "perfect" gift, the anticipation of the look on their faces when they open your clever present, or seeing the tears in their eyes when they receive that super-clever personal gift that you made just for them!But.....there's always that ONE PERSON on...

Posted By:
Susan Forrest on Oct 19, 2018
It's pumpkin carving time again!Soon the neighborhoods will be populated by ghoulish and clever carvings, some simple and some quite complicated. Most of us are Nocturnal Novices, but If you'd like to become a Pumpkin Picasso here's all the information you'll need.First here are some excellent and free templates for pumpkin carving, from pumpkinpile.com.FREE PUMPKIN PATTER...

Posted By:
Susan Forrest on Oct 5, 2018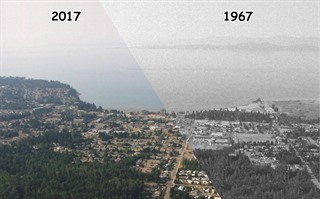 Ahhh...1967, the summer of Love, Peace, Flowers and all things Groovy!Half-a-century ago Parksville (population 12,000) was much smaller than today with a population of 1,426. Gasoline was a mere 33 cents per gallon, the average new car was priced at $2,750.00 (VW Beetle was the top seller), and Parksville's postmaster Harold James Parsley had just passed away after holding the position...

Posted By:
Susan Forrest on Aug 24, 2018
|
1 Comments
Many of us "old-timers" know about the history of our area and the adventures of the early settlers. But many people now living in Oceanside have come here from elsewhere and don't know that much about our local history. Today's blog - "What's in a Name - Part One" - looks at the origins of some names that you see everyday but may not know that much about.ParksvilleIn 1886 a wagon r...

Posted By:
Susan Forrest on Aug 3, 2018
Previously we picked our 1st Place Winner for the Visitor from farthest away EVER!. Now we present the runner-up in this category...actually several runners-up! On Jan 1, 1970, Miss Doreen Kendall, a practical nurse, and Mrs. Frieda Wilson, a registered nurse, were employed together on the night shift in the extended-care ward for elderly patients at the Cowichan District Hospital at Duncan o...

Area Regions
Recent Blog Posts
Categories